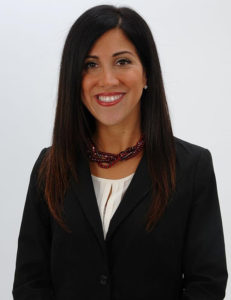 Christina graduated from the University of Illinois in 2001 earning a bachelor's of science in health administration. She graduated as a member of the Phi Kappa Phi Honors Society, recognized for being within the top 10% of her entire graduating class, and she was a recipient of the James Scholar Achievement Award.
In 2004, Christina earned her Juris Doctor degree from the California Western School of Law in San Diego and graduated at the top of her class. Christina was the Vice President of La Raza, a non-profit organization which supports Chicano and Latino Lawyers in California. Also, Christina was on the Dean's Honor List multiple times, she was a recipient of the Dean's Merit Scholarship for Ethnic and Cultural Diversity, a recipient of the Dean's Scholarship multiple times, and she earned numerous Academic Achievement Awards for receiving the highest grades in her courses and setting the academic curve.
During Law School Christina interned for the Federal Food and Drug Administration located in College Park, Maryland, where she assisted in the writing, revising, and implementation of the Bioterrorism Act of 2002.
After graduating law school, Christina was admitted to practice law in the State of Illinois. Further, Christina is admitted to practice law in the Northern, Central, and Southern Districts of Illinois.
Christina first worked for Codilis & Associates, a large firm representing mortgage lenders and servicers. There, Christina was a bankruptcy associate who was handled a high-volume case load and presented multiple motions in court three to four days per week. She was responsible for court calls for three judges in Cook County. She also attended 341 meetings to ensure that client's rights were not adversely affected in bankruptcy.
Thereafter, Christina joined the largest health care firm in the United States, Epstein Becker & Green, P.C. as an associate attorney. There she provided legal counsel to food and drug companies to ensure their compliance with the FDA and FTC regulations. She also assisted pharmaceutical companies in submitting and securing FDA drug approval. Christina then joined Takeda Pharmaceuticals North America, Inc. as in house corporate counsel supporting their Research and Development Teams.
After many years as a corporate attorney, Christina became the owner and managing partner of her own law firm from September 2009 to the present. The Law Office of Christina Banyon, P.C. is court coverage law firm based out of Joliet, Illinois. Christina's law practice focuses on appearing in court on Chapter 7 and Chapter 13 bankruptcy matters, foreclosure matters, and various state court matters.
Although based out of Joliet, Illinois (Will County), Christina provides her legal services all throughout Will County and the neighboring counties including but not limited to the following: Du Page, Lake, Kane, Winnebago, De Kalb, Kankakee, and Cook Counties.
Christina is dedicated to the law firms she provides coverage for. Knowing the ins and outs of bankruptcy and foreclosure matters, Christina always puts her clients first to ensure the best legal representation possible.


WHAT OUR HAPPY CUSTOMERS SAY!
My experience with Christina Banyon as my personal bankruptcy lawyer began in September 2018. I walked into her office fearing the worst possible thing, bankruptcy (in my mind it was the worst thing). I had placed myself in a bad situation financially on a personal and business standpoint and I was out of options.Christina sat down with me, listened to my situation and talked to me very open and honestly, giving me options to my issues. By the end of my consultation meeting with Christina, I could see a light that I could not see prior to walking into her office. Christina explained the entire process of how she could assist me with my personal bankruptcy and then without hesitating told me, "everything was going to be ok". I needed that kind of support and hand-holding through this process.Christina began working on my case and guided me throughout the next few months. Her communication was excellent as she had to answer many questions that I had for her. My case was pretty challenging and she took the time to help me understand what my expectations should be as we moved closer to my court date.As I discovered, she is very respected and well known in the court room as a top tier bankruptcy lawyer and this showed when she would speak with the trustee. Her knowledge is excellent and she knows how to prepare you. Based on the complexity of my case, it took until February 2019 to be discharged but there was always a constant, which was the professionalism that Christina brings to the table.Post discharge, I am now trying to rebuild my life and I wouldn't have made it through some of the more challenging moments in my life without Christina being involved. I enjoyed working with her and would recommend her to family and friends.Thanks,

I just want to acknowledge this firm, specifically Christiana Banyon of what a professional should be. I wish she was a representative sample of what all attorneys were. I know of a few very good ones with good hearts. Her and Mike Marovich out of Orland Park are gems. Not many attorneys will exceed all expectations personally and professionally, they both have. I will direct my attention to Mike on his review.Christina was a very caring, and empathetic person and seemed to have the ethical and professional charisma and fortitude most clients don't witness. I wasn't personally her client; however, was physically present to an involved party I deeply care about and can say anyone who hires her will be in awesome hands and should not be troubled or worry about unprofessional or unethical care. She spoke the truth even when it meant sacrificing money that she could have taken from someone in need.I personally and professionally endorse Christina Banyon for anyone looking to retain an attorney. I have high regard for Christina and her firm. GOD BLESS HER AND HER FIRM!!?

I would like to thank CKB Lawyers for everything they did for us. Christina is an amazing professional as well as one of the kindest people I've had the privilege to meetWe are grateful to you for making our lives better!

Thank you for your patience and kindness to me during this. Christina really helped to me keep at ease and get closer to my fresh start.I'm very glad to have met her.

I would openly and enthusiastically recommend Christina if you ever have to go through a bankruptcy. Let's face it, a bankruptcy can be one of the most humbling experiences of your life. In most cases, and in my case, in particular, you can feel embarrassed and something of a failure. Christina took what could have been a terrible experience, what I thought was the lowest point in my life, and made it into a positive, life-changing experience. Her humble, positive approach coupled with her knowledge and expertise made the entire process smooth and painless. But more importantly, the connection she makes with her clients is even more important than the casework. Her assurances and explanations raised up my spirits and made me realize that this is not something to be embarrassed about, but rather it is a tool to be used to generate a fresh, new start. Working with Christina I felt confident again and ready to move ahead. Christina will always have my highest recommendation, not only as an attorney but as a human spirit who genuinely cares about those she works with. Thank you again for all of your help through this process.

"In challenging times, the littlest things can make a huge difference. Christina helped me with a sensitive and downright embarrassing situation with the professionalism and kindness that I really didn't think anyone possessed anymore. I highly recommend her for all of your legal needs.

"Christina Banyon is amazing at what she does!I was in an unexpected time crunch and she went above and beyond to help me. She reassured me everything was going to be ok and in the end, it was.Emails and phone calls were returned promptly and she explained everything to me so I could understand it. I was literally in tears when I walked into her office for the first time and she had me walking out with confidence. Christina is very professional and also cares about her clients. She truly saved me and I will always appreciate everything she did for my situation. I highly recommend her to representation."

"Thank you again for everything and making this process seem so easy"

I am so grateful for your excellent representation during our bankruptcy. You have enabled me to get on with my life. It feels like the weight of the world has finally been lifted from my shoulders and I can breathe again.Thank you, thank you, thank you.

"Believe me when I say, Christina Banyon is definitely on my list of things to be thankful for this year."

"I wanted to sincerely thank you for your services back at the beginning of the year. I am currently on my new path sticking to my financial budgets, and living debt free ( besides student loans). Thank you for everything."

"Christina Banyon is exceptional with knowledge and expertise in the legal profession. I have dealt with a lot of attorneys in my time and she is among the best"